Awarded to the outgoing past chair for recognition of service to the section.
Coordinator:
If you have questions regarding the nomination process, contact Carl Brown
About Marlene Preston: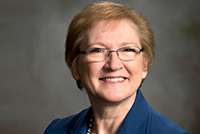 Marlene Preston was one of the first leaders of the National Communication Association's Communication Center Section and was instrumental in establishing the National Association of Communication Centers. Her career is outlined in the news of her emerita faculty recognition.
Past Recipients:
2015 Russell Carpenter, Eastern Kentucky University
2014 Jennifer Butler Ellis, Northern Illinois University
2013 Sue Weber, University of Pennsylvania
2012 Wendy Atkins-Sayre, University of Southern Mississippi
2011 Ted Sheckels, Randolph Macon College
2010 Kathie Turner, Davidson College
2009 Esther Yook, George Mason University